Welcome to Pauly Penta's Gourmet Italian Deli
At Pauly Penta's Deli all menu items are cooked fresh on the premises each day.

Our full service Italian Deli caters to all your needs, offering fresh soups, fresh salads, cold and hot sandwiches, grilled foods, gourmet pizza, daily specials, bakery items and gourmet coffees and deserts. We also feature Boar's Head cold cuts by the pound.
Pauly Penta offers full service catering. All our food is made fresh to order, and we provide excellent service all at a competitive price.
The key to our success is satisfying each customer with quality food, excellent service and providing a fun and enjoyable experience. Pauly Penta grew up in North Providence. He has always envisioned providing his community with a high quality Italian Deli. Together with his staff he has brought his 30 years of food service experience into his North Providence Deli since October 1998.
Here is what others are saying about Pauly Penta's Deli.
The Observer- 1999, 2001, 2002, 2003 and 2004 Best Deli Sandwich
Senate citations for being voted RI monthly best Italian Deli. - 2001 and 2003
Yankee Magazine (Nov 2001) Author: Susan Perry
I was out shopping in the states best outlets and was referred to Pauly Pentas by the sales person at the Rug Factory store in Pawtucket. She had a bowl of Chicken escarole soup and a hot pastrami sandwich; she said it restored her energy in no time. I had almond biscotti, and a take home qt. of the soup along with some heavenly smelling mushrooms stuffed with roasted red peppers and olives.
Rhode Island Monthly - 2001 (Best Italian Deli not on the hill) assorted Frittatas, Cal zones, Chicken Escarole soup, Tortellini salad, Veal and Peppers, even the Snail Salad. Huge Lunch time Crowds. Editor's favorite: Cal zones.
Rhode Island Monthly - 2003 Readers Choice Poll "Best Deli in Providence County"
Intrigue Magazine - 2009 Best Deli in Rhode Island
Providence Phoenix – 2011, 2013 Best Deli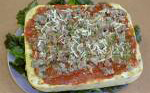 Polenta with sausage and cheese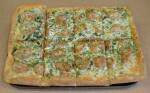 Thick crust pizza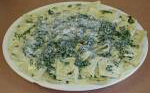 Jumbo spinach ravioli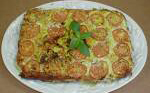 Tomato basil frittata