Pauly Points Reward Program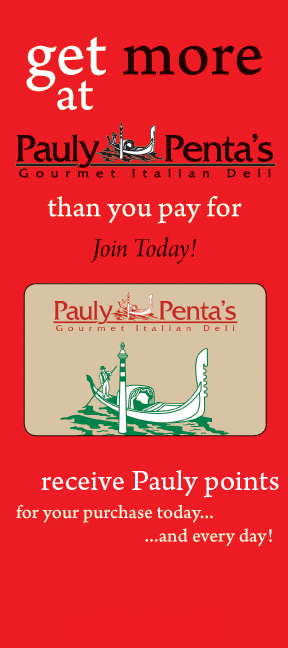 Allow us to show you how much we appreciate your business. Join Pauly Penta's loyalty program today and start earning valuable benefits.
Once enrolled in Pauly Penta's loyalty program, you will receive 1 point for every dollar spent when you visit Pauly Penta's. Once you reach 100 points, our system will automatically convert these points to a $5.00 value on your card which can be used on any future visit. There is no limit to how many rewards you can earn, so be sure to present your card each time you visit!
Our loyalty club members also receive special offers and discounts in their email box. We promise not to share your information with any other parties and we will only send you messages from time to time, so we do not clutter your inbox with unwanted mail. You will also be given the opportunity to opt out of future emails by simply clicking one link at the bottom of any of our messages.
Thank you for being a great customer and we look forward to seeing you again soon!
Start Earning Pauly Points Today!